11 Mar 2012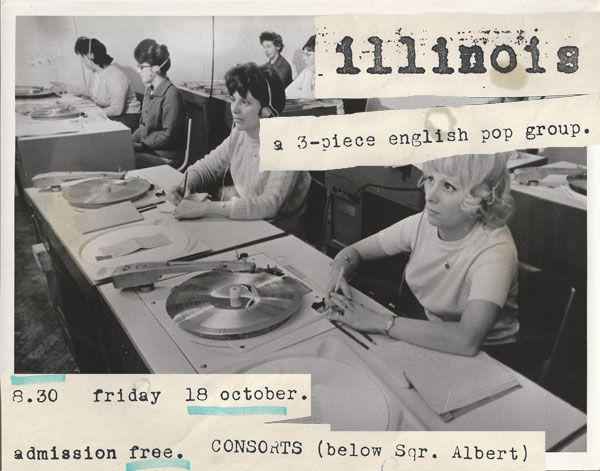 We were all meant to phone and send the demo tape out to record labels, venues etc, and make follow up calls and do all that hard donkey work that actually does pay off and gets people to listen to your music and brings you opportunities.
I didn't do that, I'm not sure if Matt or John did either, I know Matt sent it via Anne-Marie to Robert Wratten of the Field Mice, who I think said it was very post-post modern; all I managed to do was get us a gig (in the bar I had a part-time job in - I wasn't trying that hard!); in Consorts, downstairs at The Square Albert in Manchester.
So this time John and Matt had to take the cheap Trent bus over the peaks in the other direction.
I did the poster for the gig; and the question I've been asked most about these rememberings, is where did you get the photo from ? Well my grandad was a teacher on the Isle of Wight, and amongst his possessions was an envelope marked EMI Hitsville containing photos of the EMI Record making factory in Middlesex, I guess he either organised a school trip there or wrote asking for the photos as teaching materials or something. We were saving them for use on the first single cover.
I have a really warm memory of this gig, it may have been the biggest crowd we played to, and people listened and I'm sure I remember hearing applause after songs. We played for the first time my new song I'd written (I say I'd written but someone, somewhere with a big nose who knows will notice that I started off with 'Afternoon in February' a poem by Henry Wadsworth Longfellow, and then changed most of the words...)
John played some lovely soft Galaxie500-esque brushes; Matt did the chiming Galaxie guitar sound and I had to write the first line of each verse on a piece of paper to make sure I got them in the right order. The recording above has me playing the guitar and singing, maybe for a tape to send to John and Matt; and maybe with not all the words fully changed; I remember being proud of the bass line; but sadly this isn't recorded anywhere; so it is safe for me to say this.
Mawkishly I'm glad in my life to have made friends with Matt and John, and played these gigs; and shared these memories, I thought the Consorts gig was our last; but I've just found a poster for another on November 13th, again at The Yorker, this time supporting Octoberine; and Confetti (who had released a single on Heaven Records, Mark from Confetti was also in The Fat Tulips, Indie pop is bitchin ? anyone ?? - Where's Clare grogan now ?)
Octoberine were selling hand painted t-shirts by their friend Tracey, on each t-shirt Octoberine was spelt differently, I used to wear this long sleeve white t-shirt with the mod target shaped like a flower (I was a cutie mod), but for this gig I switched it to an 'Octambourine' t-shirt that didn't fit.
Don't remember anything about how we played at this gig, other than I got a laugh introducing 'Afternoon in feburary' as 'Marc's song' having previously also done so for 'Sundays'.