18 Mar 2012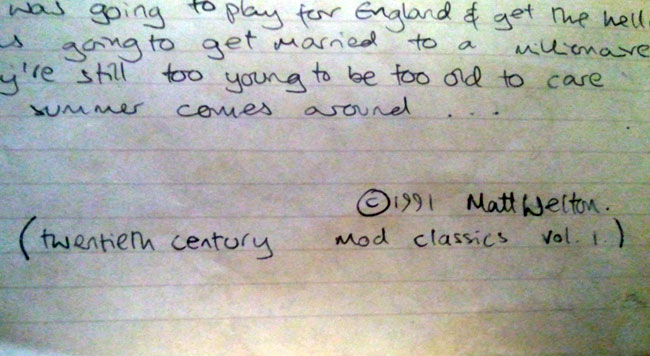 I can't remember when exactly after that last gig; but Matt came up to Manchester to visit, and it must have been midweek because we went to the Ritz on Whitworth Street, (with the bouncy dancefloor); and we were upstairs, on the seats by the balcony because we were going to have a talk; and it ended.
It wasn't working out because I was in Manchester, and Matt and John were in Nottingham, and we couldn't rehearse, and we needed to rehearse because we were still all over the place. I remember offering to give up my degree and move to Nottingham; but Matt had found a new basist called Heather, who sounded really good in rehearsal so ohh...
... and I drifted out of the conversation and stopped listening, one eye on the dancefloor below, until the dancing yawned and subsided into arms outstretched like aeroplanes and the dambusters theme signalled the end of the evening.
It was an obvious thing to happen really; but because we were good friends, I expect it must have been hard for Matt to do; and he showed much grace in telling me to my face.
So illinois had a new line-up, Matt, Heather and Heather's boyfriend Andy[1] on drums; I think they played a few gigs in Nottingham. Matt sent me a copy of another demo they recorded at Sideways Sound Studio; (and so it is in the plastic bag); they recorded two new songs for this and Sunny Days in England. for the illinois completist you can hear them here:
My disingenuous memory had these tracks sounding much the same as our previous demo, and without any noticeable improvement in the rhythm department; but listening to them now; I'm guiltily shocked at how good these sound in comparison; particulary Matt's vocal on 'Pretty Blue Eyes' and the percussion (I think a style council sample Martin Cooper slowed down), is brilliant.
Sunny Days in England is played at it's proper speed, great! - Of course Matt should have ditched us much sooner!
What a nice, lovely man he was to let me play so badly in his band for so long.
Later the following year after illinois was no more, we played an acoustic night in Nottingham together where I sang 'Sundays' and we worked out a cover of a Field Mice song, and that felt very cathartic.
And at some point in this timeline; Will and Matt were in Manchester (for a Vini Reilly gig ?) and at a pub in Hulme; where we knew the resident band (The Knights); the three of us somehow ended up playing 'Rudi, A Message To You' by the Specials, 'Shoorah Shoorah', by Betty Wright and then 'When Summer Comes around'.
Matt, went on to write several proper published poetry books, that can be purchased here, and he still occaisionally plays with The Foaming Beauties