16 Sep 2012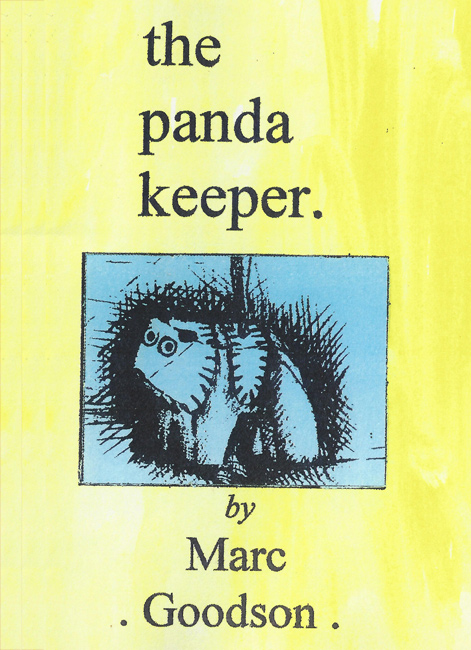 So about this time I put together my second collection of poems under the name 'The Panda Keeper'[1], I know it's difficult to keep up with demand sometimes.[2]
I liked making the pamphlets, probably more than writing or reading the poems, I liked typesetting, selection and arrangement of the poems, designing the covers and then badly photocopying the result in a Loughborough Prontaprint (I had to go home to Leicestershire in those days to use a computer); consequently the poetry contained within was patchy, as I often edited them to fit the pages nicely.
This was my best pamphlet though.
And it was about this time that I did my best poetry gig ever (not saying much really), it was in Huddersfield Polytechnic for their 'One World Week' previously I'd mainly performed with like eight or ten other poets on a bill and usually held my own but been largely un-memorable, unless I'd painted a t-shirt for the occasion, afterwards, people always wanted to talk about the t-shirts but not the poems.
Anyway it was with my friend, another poet Stuart Nolan (now magician amongst other things see: Hex Induction) who had organised it with a friend of his who may have been a Huddersfield Ents Officer? We were supporting the quite amazing but scary Pram who had just released their 'Gash' mini LP (The Dead Piano on YouTube).
We got dead drunk, on the train from Manchester starting at lunchtime, and in the bars of Huddersfield beforehand. I seemed fine though on stage, and got laughs for the Australian Soap Opera poem, cheers and general applause (general applause is better than polite applause which would be the usual response to my poetry) Stuart though after me, didn't fair so well with the crowd and it all went a bit wrong when his friend, also drunk, rolled about on stage in a Mushroom costume, trying to bowl him over as he did his seminal Firework poem.
Afterwards people spoke to me, and I slurred back and they bought copies of the pamphlet, and a girl Lucy sent me a postcard later in the week to say:
"I don't know about anyone else but I loved your poems, I would tell you why but I'd feel silly"
Hmmm I was probably in there, if I hadn't been so twee and sloshed. Stuarts mushroom ents friend who had sorted us places to stay, got us lost, and we spent most of the night wandering aimlessly around the streets of Huddersfield in the rain.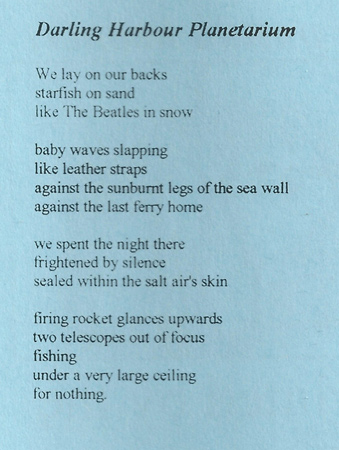 The song above: 'Darling Harbour Planetarium' is a poem from the pamphlet that is kind of set to music, Glen (Octoberine/The Headbirths) had sent me a tape of the ambient/avant-garde composer Harold Budd (Aztec Hotel on YouTube) and we were both enamoured with the effect, both wrote poetry and liked to listen to sad ambient american music drifting and ebbing through the small hours.
So this was a brave attempt to try and convey the feelings of the poem ambiently to music Harold Budd wise, it samples The Beatles and The KLF too; and I've saved this til last of my solo stuff because it's probably my favourite track that I recorded on my own, and the next tapes all concern music recorded with Glen after he'd stopped doing Octoberine that then followed on from this.
My second proper long term girlfriend lived in London, and when visiting her in the summer holidays, we went shopping in Covent Garden, and there was this little bead shop, and she bought me a bead of a Panda, I'm not sure why. Anyhow, when she went away for a pre-arranged holiday to Denmark, I asked her to take it with her, and wear it around her neck, so at least one of us could be with her and see the world, this led to me joking about her becoming the Panda Keeper in the zoo of my heart. When we split up a year or so later I callously retained ownership of the Panda, and it stayed on my desk, until bizarrely my next girlfriend saw it and wanted to wear it before I felt I could really explain it's significance. (Umm it's really important to me it reminds me of my ex isn't the best thing to say to a new sweetheart) and so she temporarily became the Panda Keeper, but when we then messily split up, and I kind of quite wanted it back (you know for the next one), she refused.
I still have quite a few copies of 'The Panda Keeper' knocking around, I did a second prontaprint run, especially for a gig in Portsmouth, and probably didn't need to...