17 Jun 2012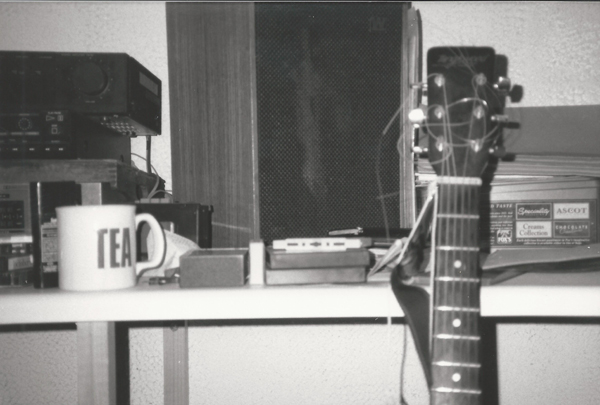 I'm not sure when Blur's Modern Life Is Rubbish was released, but I'm guessing it must have been about three weeks before I recorded this, if I remember rightly the chords to the songs were included on the back of the sleeve, and these chord progressions are reflected in this song along with the terrible mockney accent.
I'm aware that there isn't much rememberings around the songs going on at the moment; I'd ended up managing The Bank pub on Moseley street in Manchester which was fun and probably was the most well off I've ever been, not having to pay for food or alcohol and not having any free time except outside of pub hours; my only outgoings were bus rides into town; (Housing Benefit took care of the rent (you could claim that then) - The head of Manchester Housing Benefit use to drink every lunchtime in the Square Albert, and we used to do the Manchester Evening News Crossword and he insisted I pulled his pints of Tetley - because apparently only I did it properly; effectively I gave good head.
In the end though I left to sign on the dole (you could do that then) as being in a pub was taking up all my time; I'd been helping Henry and Dave with a play they'd written called 'Road to Llanfairpwllgwyngyllgogerychwyrndrobwllllantysiliogogogoch' for the Green Room in Manchester, and I was backstage assisting during scene changes, and I contributed two actual jokes. Henry had a date organised for the show in Nottingham, but I couldn't do it because of pub work, so I kind of just thought what's the point.
Dave was being a comedian on the Enterprise Allowance scheme (you could do that then) and we spent much of our days, mulling round the flat, eating tuna and pasta, playing scrabble, drinking tea, drinking tea, watching rubbish telly, throwing a ping pong ball across the room with the aim of landing it in the other persons mug of tea and stealing things from the property companies skip on the drive outside that they kept permanently stacked with intriguing junk garnered from whenever they cleared out one of their properties.