12 Nov 2012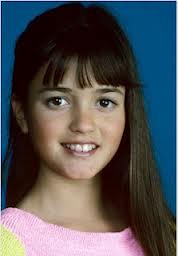 So we needed to write some songs, and this kind of happened disparately via the postal service[1], and when I'd visit Nottingham we'd put them together; and often there was a bit which that was obviously mine and a bit that was obviously Glen and I'm not sure that always worked. It would have been better if it was all Glens!
We liked the slow - fast - slow - fast of Sonic Youth indebted indie tunes and we also developed this theme of writing songs about unlikely American heroines.
This one is about Winnie Cooper from off of The Wonder Years which felt like it was the only programme on Channel 4 on Sundays when we were growing up; and seemed to capture those awkward first crush feelings in agonising detail.
I think Glen wanted me to sing this, but I thought it was a bit creepy; I may have relented in the end, but this recording anyway features Glen's voice. Also if you google for images of Winnie Cooper, as I've just done, you can see ermm, that she is now all growed up.
Not 'The Postal Service' - a side project of Deaf Cab for Cutie's Ben Gibbard and Jimmy Tamborello, that released a really great album called 'Give Up' in 2003. The band's name was chosen due to the way in which the songs were produced. Tamborello wrote and performed instrumental tracks and then sent the DATs to Gibbard, who edited the song as he saw fit (adding his vocals along the way), sending them back to Tamborello via the United States Postal Service.